Thu 6 Mar 2008
As loyal readers know Techlife is an early adopter, but we don't always write about things immediately. Our readership appreciates the pace, as the our reports give a real "lived in" flavor. For example we have had a Nintendo Wii in our office for well over a year, as we snagged one early on. But our first Wii article was about something that puzzled us, and we thought might help others.
We have had an OLPC XO Laptop (One Laptop Per Child) in our offices since late last year. For those unaware, these are those little green laptops originally billed as the $100 laptop (ended up closer to $200), and intended for children globally, but with special focus towards countries where computers are few and far between. The idea that if children had the chance to use a computer regularly, their own computer, they would grow up and be able to implement technology into their country with more ease. A noble pursuit.
Click "more" to read how the OLPC XO Laptop Saved the Day… and see the image gallery.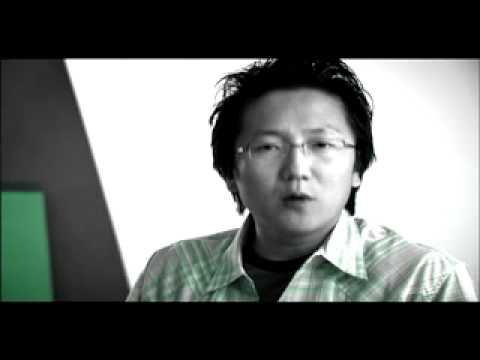 Heroes Masi Oka on G1G1 on Techlife TV
OLPC had a program for North Americans in late 2007 called G1G1 (Give one, Get one). Essentially you donate $400 and a child in the world gets a laptop as well as you get a laptop. Currently that program is no longer available. As explained by OLPC they are a non-profit and don't feel they could continue to support it for an extended period of time. Techlife thought this mission was noble and made a donation, admittedly a reason was to get our hands on one as well. That was the point of the program, right?
We were lucky enough to snag one very quickly, while some people waited and waited for theirs to ship. When we got it we were a little disappointed that our secure WPA office couldn't get online (until research for this article revealed the upgraded fix to OLPC's to gain access to WPA secure networks.)
Yesterday before a big meeting I was reading Wayan Vota's OLPC News (watch for the interview with Wayan coming soon), a great resource for people interested in OLPC XO Laptops. After packing my Lenovo T61 Thinkpad laptop for the meeting, I thought why not bring the OLPC XO Laptop too. I threw it in the bag and off I went. OLPC News and Bob Ross, yes that Bob Ross was the spark the ended up saving the day.
The meeting began as most do, laptops being pulled for a presentation. Out came the Thinkpad, and the presentation began. At one point we needed to go online to show off some new technology. I made a few clicks, and then a few more. The Thinkpad was not seeing the network and I was not going to bang my head as to why in the middle of the meeting. So I pulled out "The Backup", the OLPC XO Laptop, which immediately got lots of questions.
The questions and discussion actually gave me the ample time to test out the OLPC XO Laptop, which found the wireless network easily. Then I did the next best thing, loaded up the online part of the presentation and handed the OLPC XO Laptop to one of the audience. They were clearly enjoying using the OLPC XO Laptop and thankfully our presentation.
Now clearly the OLPC XO Laptop was not intended for this purpose but that's when technology is at its best. Working when you least expect it. After getting back to the office I also tried out a USB to Ethernet Network Adapter to allow a wired connection to the OLPC XO laptop and it worked great.
I applaud the work being done and am happy I have donated to this cause. I hope the future of OLPC continues to grow, and with all the great people interested in it, I think it will.
Update:Â  Wayan writes in with two good resources for OLPC users: